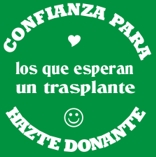 THE PATIENTS VIEW: TITO MORA'S EXPERIENCE
My name is Carlos and my artistic name is Tito Mora. I am a singer and a liver transplant patient.
I was doing shopping with my wife María one day of 1991. I felt suddenly dizzy. I had never suffered from neither a common nor a severe illness and I could not understand myself as a patient.. I suffered from a very serious hepatic disease.
At this first admission, I received blood transfusions and medical treatment and I quickly recovered, "as a young man", the doctors said. In a short time I was discharged from hospital. When I went back home and with the help of the medication, I tried to live a life as normal as possible. I could not imagine how brief my improvement was going to be and how quick I would go back into the hospital. I was far of understanding the seriousness of my health situation, which became to be apparent because of my exhaustion and the progressive changes in my body and in the colour of my skin.
It was October, one month after leaving the hospital, when in an unexpected way, I fainted; it was my first episode of encephalopathy. I was admitted again. This time the diagnosis was more conclusive and severe: "acute hepatic failure". The symptoms were clear: exhaustion, liquid retention, bloated feet and stomach, yellow eyes and skin, extreme slimness, microscopic haemorrhages and as a result, the encephalopathies. When I recovered consciousness at the hospital, I though the episode had just occurred. María told me it had occurred twenty-four hours before.
After this first episode of encephalopathy, the visits to La Princesa Hospital were more and more frequent. I had to receive blood transfusions very frequently as a way of charging my batteries and going back home with María. The autumn went away with transfusions and encephalopathy attempts. The Spanish writer Pío Baroja said "autumn was the good smell", but I identified that season with serum smell.
The 28 th of November that year seemed to be only another day. Before going to work María tried to wake me up to remind me not to forget my medication, this meant a list of 30 pills a day. According to María's words, the scary word "encephalopathy" was again written on my face. During the trip to hospital on that ambulance María's anxiety progressively increased. The doctor corroborated that I had gone into a comma. She tells me now that those were more than 20 hours of anguish for my relatives. They decided to give me the extreme unction. At eleven o'clock that night María bent down to give me a kiss. She didn't know if that was going to be the last one. Then, as in the fiction of a dramatic script, I brought forward my lips with a well known gesture to receive her and recovered the consciousness. It seemed a miracle.
My medical chart was sent to the Hepatic Surgery Liver Transplant Unit and on the 15 th of December in 1991, my name was included in the waiting list to receive a liver transplant.
During several months, I defied the expectations of life that doctors predicted but the donor did not arrive. My body needed a lot of different medicines every day. I also had to measure the amount of water and food I ingested in order to avoid a new episode of encephalopathy, which would had been fatal in my situation. On the 5 th of April, 1992, we decided to went out for lunch; I was desperate and could not stand so much diet. We went back home immediately because of my exhaustion, which took me into bed. At six in the afternoon we received the so expected phone call after three vain attempts. The phone call was from the hepatic transplant unit: there was a liver for me. After a very long surgical intervention, from 22h that night until 16h next day I was finally transplanted.
After my liver transplant ,life has gone back to normal and I feel very well. I do have to go to periodic revisions. I have to keep under an special treatment though, chronically receiving immunosuppressive therapy, this means a medication to avoid that my body rejects the transplanted organ. After these 14 years, I still have to receive these medications. I've never been involved in a clinical trial or research programme. But, if proposed I would probably have accepted. Research and progress in medicine kept me alive. All the advances that these and other projects produced made it possible for the donors to make donations possible and allowed the life to continue. I feel so indepth in doubt
My thanks to the doctors and health personnel who saved my life, to all my family and specially to my wife María, who lived and lives every second of my illness taking care of me with all her love. But over and over and always over of all, my thanks to my donor and his/her family...
I dedicate now a big part of my life to make people aware of the importance of organ donation, participating in many charity galas and collaborating with different organizations related to donation and transplantation. I have even recorded a CD entitled "I live thanks to you" which contains several songs to make people aware of the necessity of donating their organs to save lives, as somebody did for me once. If something can be done also participating in the clinical trials, we must, it becomes also our responsibility as patients and beneficiaries of the medical progress.
I give more value to everything now, maybe because I have been very ill. I look at things more quietly and try to enjoy every single moment. We are here for a short period of time, so we have to try to be better people; it has no sense to get angry so much if you can die at any moment. We never know if our life depends on the generosity of an unknown person, on the solidarity of a stranger, sometimes from a different nationality or culture to ours, who give us a part of his/her body that he/she will not need any more. That is why we have to make ourselves aware of the importance of organ donation, being able to give life to other people...
TITO MORA (web: www.titomora.es)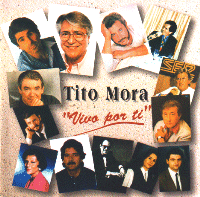 The last success "I live for you"
Del CD de Tito Mora "Vivo por ti", canción GRACIAS A TI, de Emilio José y Pepe Domingo Castaño, video www.zafara.org